Een veelzeggende titel, want onderweg zat ik me af te vragen of dit tevens de laatste ging zijn. Maar nu, een week later en weer enigszins bijgekomen, hoop, en denk ik, van niet. Onderweg ging ik kapot, niet zo zeer van de inspanning en uitputting, maar vanwege een knieblessure, waardoor ik me knarsetandend in moest houden op de fiets, toch al niet mijn sterkste punt. Dat ik aanpikte bij Patrick, via zijn trek-elastiek, heeft me zeker geholpen, maar mocht uiteindelijk toch niet baten. Dus kozen we eieren voor ons geld, en maakten in de loop van de tweede fietsetappe rechtsomkeert, om in elk geval de rest van de race, met minder fietskilometers, af te kunnen maken. Ik blijf er bij dat dat een verstandig besluit was, maar leuk was het niet, en makkelijk ook niet. Als je dan meer dan drie uur voor de deadline al neerploft op de finish smaakt dat biertje niet zoals het zou moeten. Wel naar revanche: ik kom nog eens terug… Een reconstructie:
Woudlopers
"Auenland", een naam die jaren terug al viel toen ik met Filip zat na te praten na afloop van de WOR. Ik had toen nog geen idee wat een Adventure race was, maar het scheen leuk te zijn, en 24 uur achter elkaar sporten met kaarten klonk wel uitdagend. Ik heb de naam van deze race nog een aantal keer gehoord, en ik heb ook een keer of 4 meegedaan aan een adventure race, sindsdien. Het was altijd leuk – en ook elke keer zwaarder dan gedacht. Maar toch telkens succesvol. Nu kwam ik, ergens in november, in gesprek met Tammo (voor alle namen in dit verhaal moet je maar naar de uitslagen kijken, dan kan je vinden wie ik bedoel), die ik al van 30 jaar geleden kende, en wiens zonnepanelen nu mijn huis van stroom voorzien; en het kwam op het onderwerp Auenland. Wéér die naam: dit keer moest ik er aan meedoen. Patrick was er wel voor in, en via de achterdeur van het DARS NK schreven we in. Twee weken voor de start sprong het licht op groen en zou het doorgaan. Ik had ooit een 32 uurs race in de Harz gedaan, dit zou dus ook wel lukken. De hamstringblessure was over, de ½ Marathon van de week was alweer bijna twee maanden vaste prik, en ik voelde mij er meer dan klaar voor, conditioneel. Dat fietsen, dat zou wel goed komen.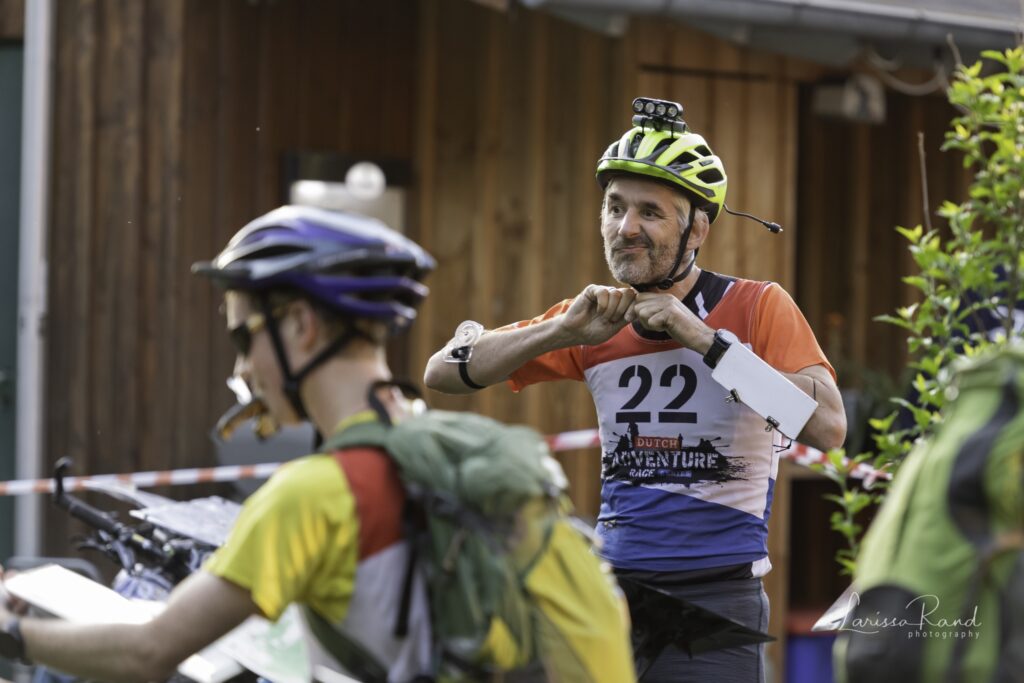 Met wat aanpassingen aan de fiets, een ternauwernood opgeladen hoofdlampaccu en op de valreep geplakte achterband, 23 candy bars in de rugzak, een negatieve corona test op zak, en een weersvooruitzicht dat op miraculeuze wijze van 4 liter per m² per uur naar 0 was omgeklapt, gingen we van start. Nogal nonchalant overigens, nadat we onlangs nog de MWR en vHnH hadden gewonnen.
QR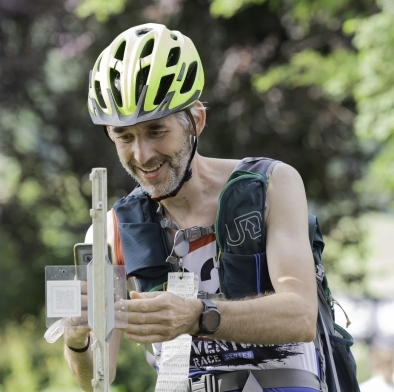 [vrijdag 18:50] Dat dit een ongewone adventure race zou worden was al snel duidelijk. En dan bedoel ik niet omdat dit de eerste keer was dat de CP's zouden moeten worden gescand met een iOrienteering app op de smartphone middels in het veld geplaatste QR-codes, maar vooral vanwege de 50 rechtopstaande PVC pijpjes in het startvak. Een snelle blik: er ligt een pingpongballetje onderin. En er zitten gaten in de pijp geboord. Bij welke geocache heb ik dat eerder gezien? Creatieve plannen: blazen door de gaatjes, zuigen aan de bovenkant, de watervoorraad uitstorten in de pijp? Het wordt een kaarthoes die binnenstebuitengekeerd als emmer dienst doet en zich laat vullen in de naast de start-camping gelegen beek. En binnen een minuut hebben we het aldus verkregen balletje omgeruild voor het pak kaarten voor de race.
[19:01] We tekenen alles in (er staan een aantal coördinaten in het roadbook), plannen de looproute voor de 1e etappe, en gaan op pad. Wie hier vaker is geweest kent de beek en weet dat je er gewoon doorheen kan, wij lopen via een kleine stuw even verderop. Mooi weer, het is nog licht want immers pas 19:15, en een route zonder fouten.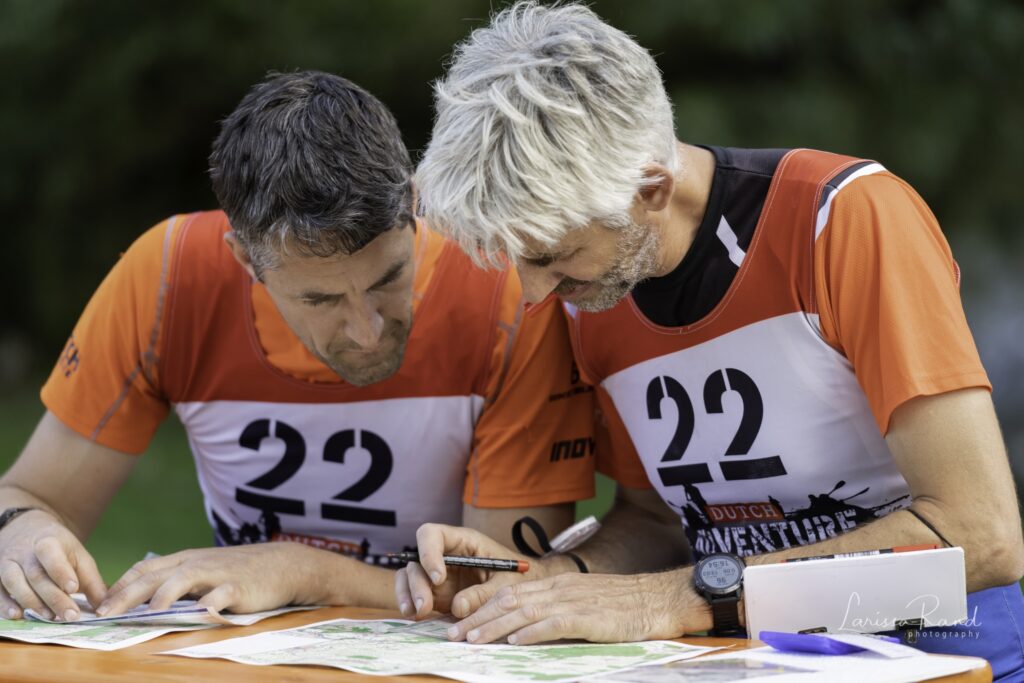 Toch zijn veel teams al sneller weg, wellicht omdat ze minder ver vooruit hebben gewerkt in de routeplanning. Alle puntjes van de loop-etappe vinden we, redelijk met gemak. Alleen verzwik ik mijn enkel als ik over een heel suf greppeltje spring. Ik weet inmiddels uit ervaring goed genoeg dat er dit keer niet veel aan de hand gaat zijn, hooguit wordt die wat stijf na afloop. En dat 'na afloop' is pas over 23 uur. Komt goed.
Wel zijn we eventjes misleid door een oud rood-wit lint. "Dat hangt er al minstens een jaar, dat hoort niet bij deze race", zeg ik nog. Maar het blijkt er wel bij te horen: kennelijk is de route vorig jaar al uitgezet, maar vanwege Corona een jaar uitgesteld, zonder de CP-lintjes weg te halen. De knijpers en QR-codes zijn wel redelijk recent geplaatst. Maar toch is het wennen, en ik geloof niet dat het mijn favoriete methode gaat zijn. Telkens de telefoon pakken, ontgrendelen, app openen, scannen, uitzetten, opbergen. Een SI is veel fijner, die kan niet kapot, mag nat worden, en hoeft niet tevoren in de vliegtuigstand met de GPS uit gezet te worden. Overigens viel het me wel mee dat de telefoon na afloop nog 80% batterij over had, dus wat dat betreft was er ruim voldoende marge. Maar het is gewoon onhandig. En het voegt wat mij betreft niet veel toe.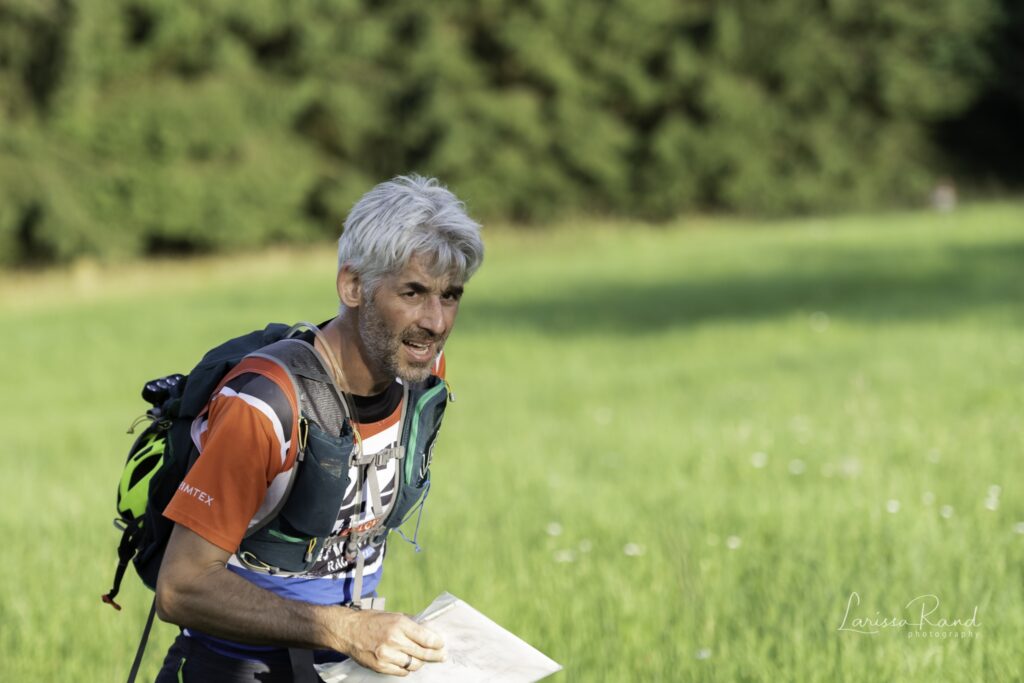 [20:28] Anyway, we komen ongeschonden aan bij de start, waarna de eerste fietsetappe begint. Het is nog steeds licht, want de langste dag was ongeveer een week geleden. Snel op de fiets. Meteen flink klimmen. En dat voelt niet goed. Beetje pijn aan mijn rechter knie, en al gauw ook aan de linker. Dat beperkt de maximale kracht enigszins. Patrick heeft een sleep-elastiek, en dat verlicht het enigszins, maar comfortabel is het niet. Dit jaar mogen we niet door de bossen, vanwege droogte en/of Letterzetters, dus gaat de route vooral tussen de velden door. De hoogtemeters zijn er niet minder om. En paadjes met hoog gras tussen akkers en velden zijn ook behoorlijk pittig. Langzaam valt de duisternis, de hoofdlampen gaan aan, en in de verte zien we de rode knipperlichtjes bovenop de windturbines die boven de heuvels uitsteken. Het is mooi, maar ik bijt wel op mijn tandvlees, want de knieën werken niet mee. Aftellen tot het beging van de volgende etappe, dan mogen we weer lopen. Iets eerder overigens ook al, als we naar een CP moeten door hoog gras, langs een kleine bossage. Een bewoner van een nabijgelegen is wat minder enthousiast met al het nachtelijke bezoek, ook al lopen we gewoon door een stuk niemandsland. "I don't want to see amy more of you people here", roept ze. "So we are not the first tonight?", antwoord ik. "No, you're not!" bitst ze terug. En zo weten we dat we goed zitten. Het CP volgt even later. Via de andere kant van het bosje lopen we terug naar de fiets. En wéér moeten we trappen.
Eindelijk
[zaterdag 01:05] Eindelijk zijn we op het TA, waar de MTB wordt achtergelaten, de voorraad repen in de loop-rugzak aangevuld, en de globale loop-route bepaald. Onderweg komen de details wel. Ik navigeer te voet, Patrick op de fiets. Een mooie verdeling. We vinden elk punt direct. Via de kortste route, ook dat. Misschien niet altijd de snelste route trouwens, want het gras blijkt in veel weides hoger dan twee kontjes.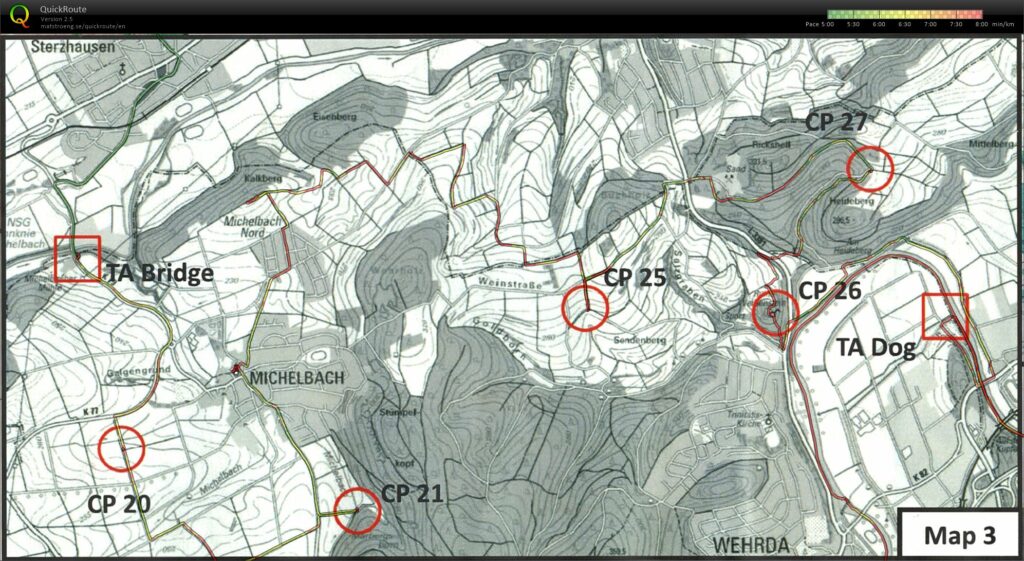 Één keer loop ik verkeerd, kennelijk iets minder scherp. Het is dan ook al een uur of half drie 's nachts. Vervolgens besluit ik dat het handiger is om twee CP's om te wisselen. Dat zou minder klimmen zijn. Maar achteraf is dat nog maar de vraag.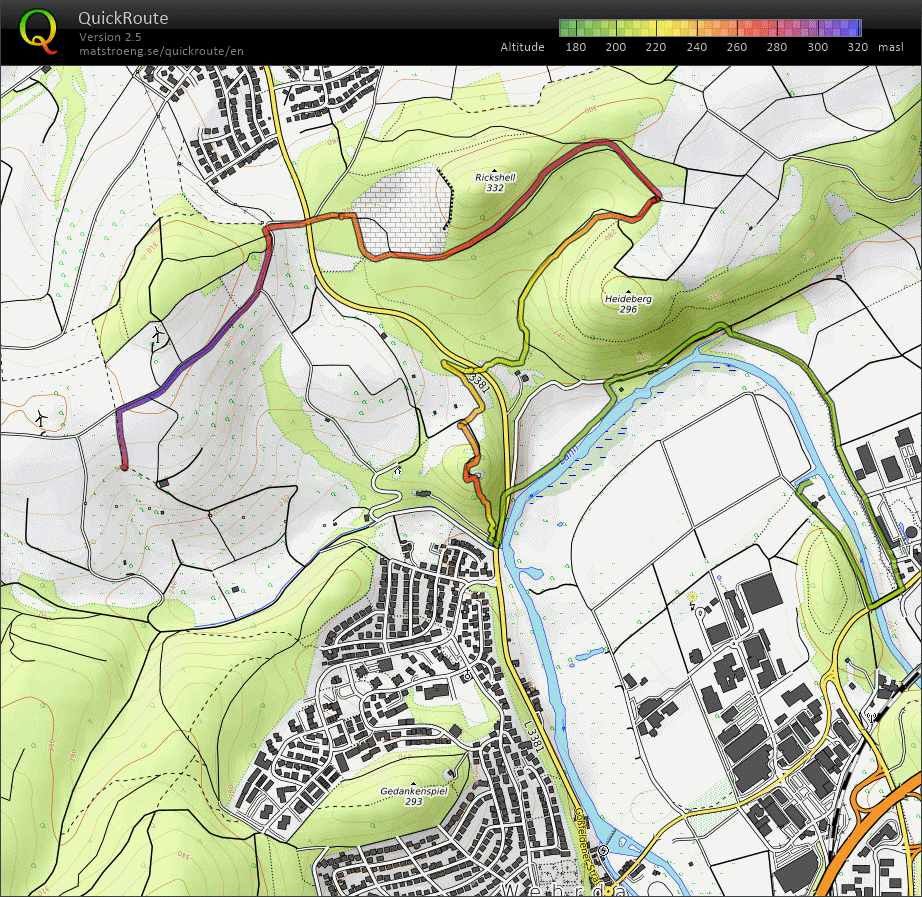 Het is in elk geval een minder conventionele route, door braambossen en moerassen. Afzien. En de kilometers beginnen in de benen te zakken. Een stukje zitten in een kano zou wel lekker zijn.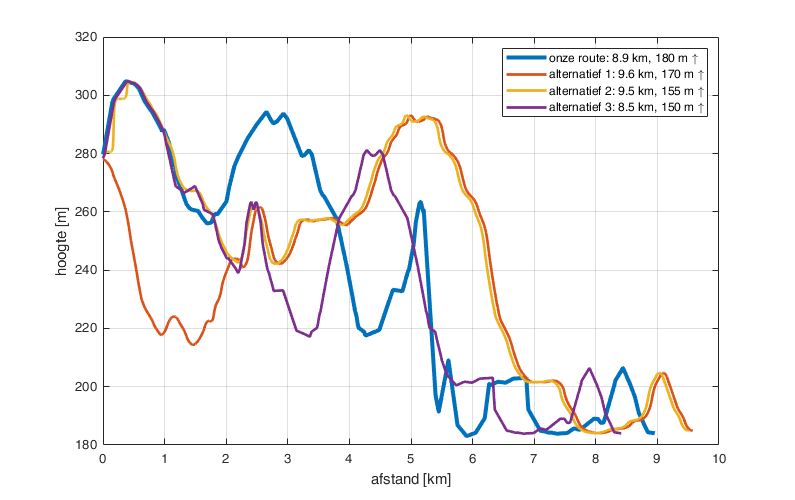 Gaap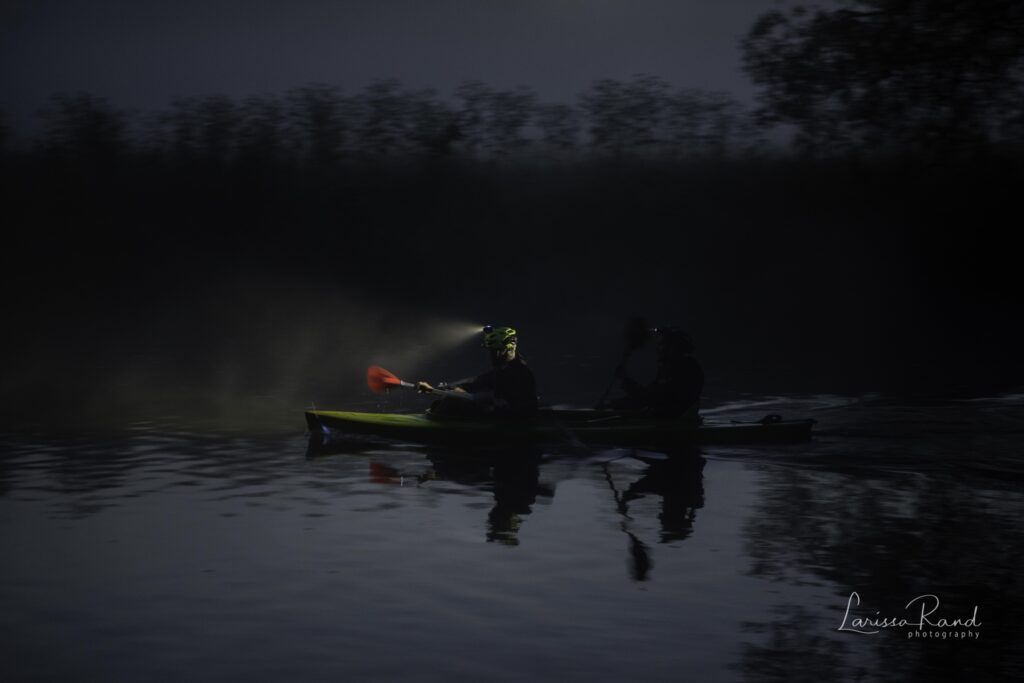 [03:50] Dat is dan ook de volgende discipline. We peddelen er lustig op los, stroomopwaarts. We komen de teams die voor ons liggen alweer tegen, die zijn al aan het traject met de stroom mee begonnen. Het is overigens wel schitterend, om in het holst van de nacht -een uur of vier is het dan- over een kalm riviertje te peddelen, terwijl de damp van het relatief warme water opstijgt en de bundel van de felle hoofdlamp als een massaloze kegel heen en weer zwaait bij elke beweging van het hoofd. Je zou er haast van in slaap gewiegd worden.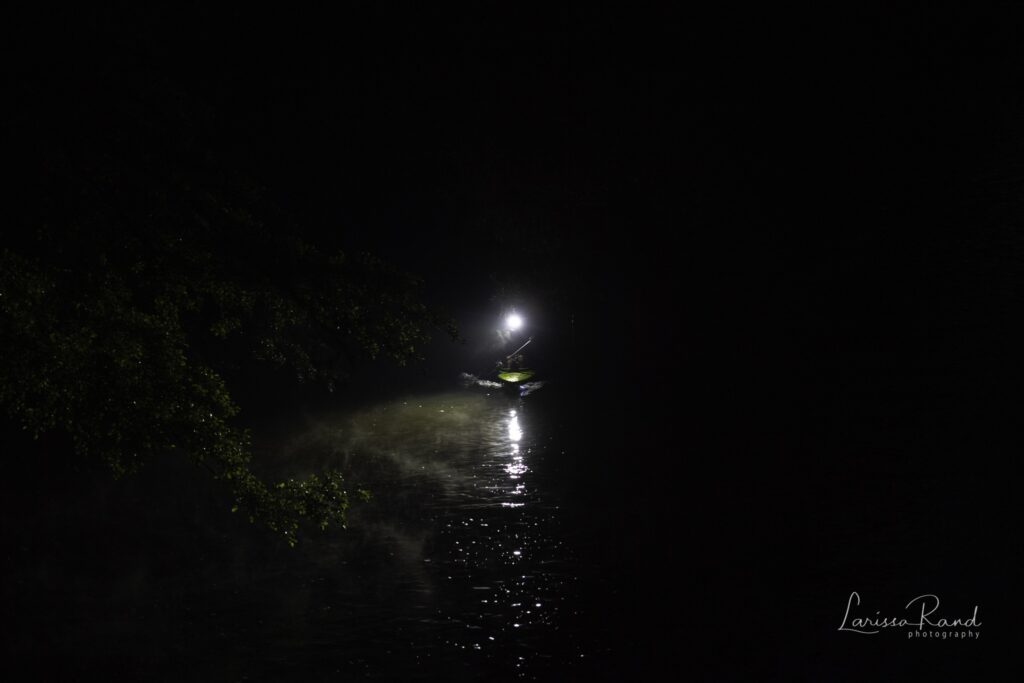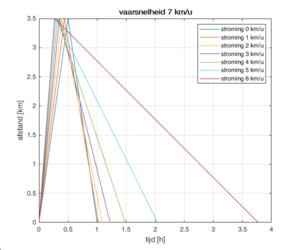 Dat is dan ook wat gebeurt, en ik dommel af en toe weg, tot Patrick er helemaal klaar mee is en mij ook een van zijn cafeïnepillejtes leent; een dubbele espresso zit er om deze tijd op deze plaats ook niet echt in. Wakker worden bij de diverse watervallen en passages wil niet zo goed lukken, de enige uitbundige activiteit van mijn lichaam is luidruchtig klappertanden vanwege de kou. Kanoën is inspannend, maar het grootste deel van je lichaam zit ongemakkelijk stil. Inmiddels is het bos om ons heen overgegaan in de bewoonde wereld (of voeren we daar al de hele tijd tussendoor maar zagen we het niet?) en bevinden we ons middenin Marburg.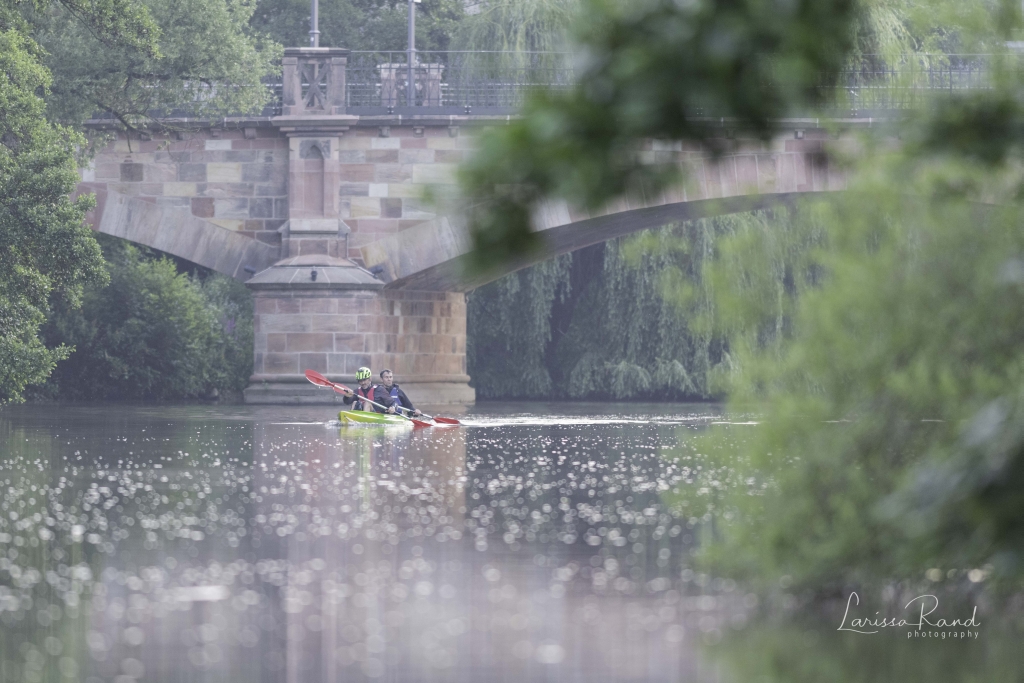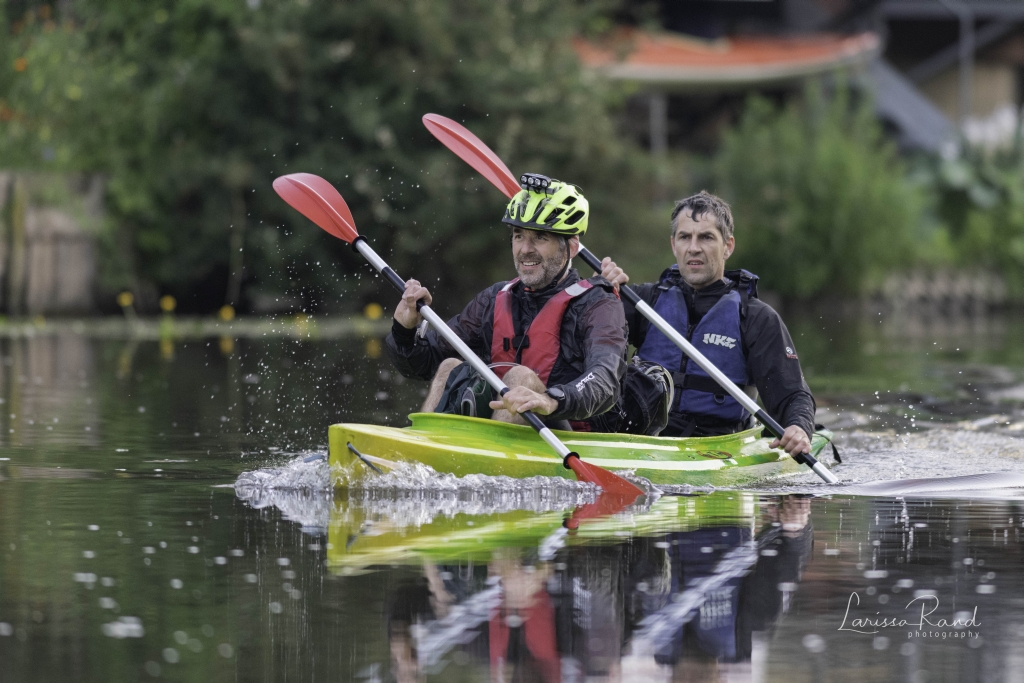 Toch voel ik me als op een andere planeet. Zere knieën van het opgevouwen zitten in de kano na het fietsen, een enkel die langzaam opzwelt, een zuur gevoel bij de minder fortuinlijke CP-volgorde-wissel in de loop-etappe, al met al geen triomf-gevoel. Aftellen tot de 24 uur om zijn is ook al geen goed idee, want er gaat nog veel, heel veel komen, en van wat er komt heb ik nog geen idee. Maar de kat-in't-bakkie gedachte is -volkomen terecht overigens- in geen velden of wegen meer te bekennen. Wat me troost is dat er hierna weer een loop-etappe volgt en we nog even niet op de fiets hoeven. Onding.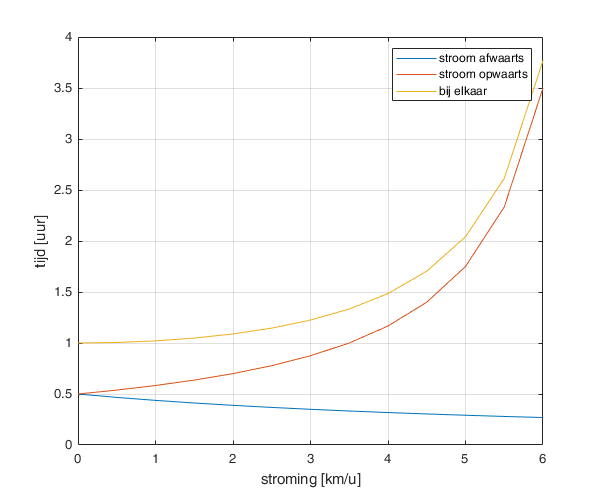 Eerder dan verwacht wordt de kano ingeruild. Niet gepland, maar impulsief ingegeven als we een andere kano nabij een passage in de struiken zien liggen. Natuurlijk! We moeten nog 4 CP's oppikken stroomafwaarts van hier, maar daarna moeten we tegen de stroom in terug, want het TA (transition area: daar waar je de fiets achterlaat en overstapt op een ander vervoermiddel, of omgekeerd) ligt nog iets stroomopwaarts van Marburg. En dan is lopen wellicht geen gekke optie. Het staat nergens in de reglementen dat je, ook al heb je een kano tot je beschikking, je de "laatste meters" naar het CP niet te voet mag afleggen. (Het ontbreken van de kleine lettertjes heeft ons al vaker op een tactisch voordeel gezet; dat we "niet over een roadblock heen" mochten in 2015, bijvoorbeeld.) Meestal is dat ook niet gunstig; lopen kost meer energie, al kan het sneller zijn. Maar tegen de stroom in is dat een ander verhaal. Het is namelijk niet zo dat de tijd die je stroomafwaarts wint één-op-één kan wegstrepen tegen het verlies stroomopwaarts. Ga maar na: als je even hard peddelt als de rivier stroomt, ben je wel in de helft van de tijd met de richting van de stroming mee waar je wilde zijn, maar over de terugweg doe je oneindig lang. Er is één 'maar': stel nou dat de CP's aan de waterkant van de pijlers van de bruggen hangen, of aan een pijler in het midden van de rivier. Dan kunnen we er te voet simpelweg niet komen en wordt het zwemmen. Dat risico nemen we op de koop toe. Alleen al het vooruitzicht om even de benen te kunnen strekken gedurende het komende uur.
Lopen, als zombies, maar toch met hernieuwde energie. In een tempo van niks, met 8 km/u gemiddeld, maar toch een tikkeltje sneller dan de 6 km/u die we met de kano haalden stroomopwaarts, en 7 km/u stroomafwaarts. Het verschil is marginaal, maar het is gewoon lekker om iets met de beentjes te doen, die zijn daar beter voor gemaakt. Al zullen we de komende vier uur ook nog een flink stuk moeten lopen…
[07:29] Terug bij het TA toch wat twijfel. Mocht dit wel, geen kano gebruiken? We melden het in elk geval even aan de organisatie, dan kunnen ze zien wat ze er mee doen. Veel voordeel heeft het niet opgeleverd, da's wel duidelijk, maar we zijn tenminste wakker en opgewarmd.
Nat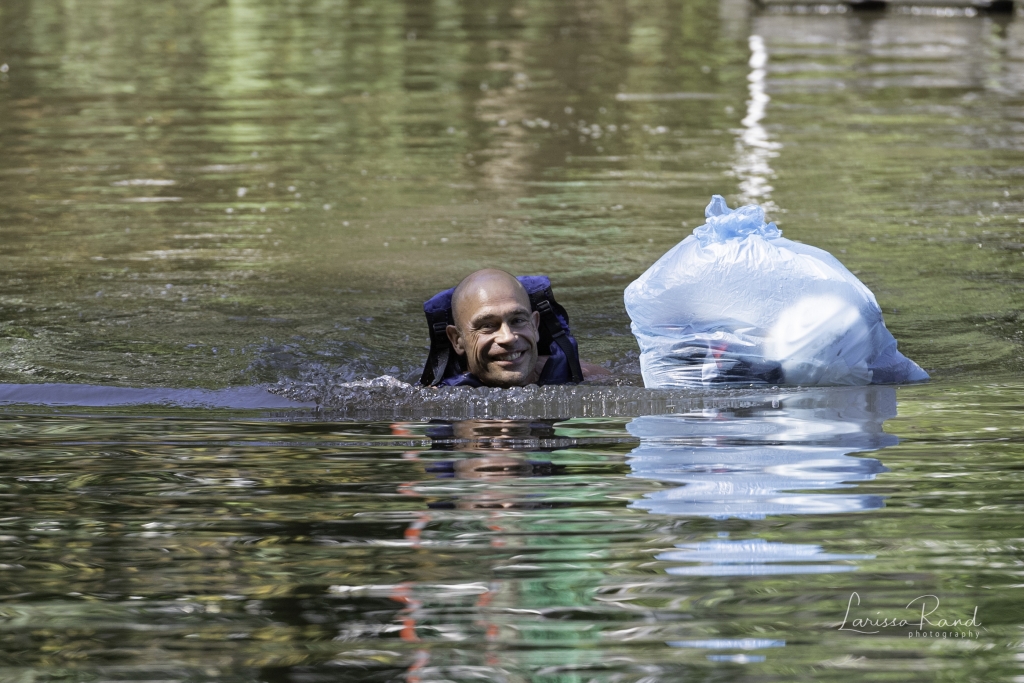 Niet voor lang overigens. De volgende opdracht is geen etappe, het is een verplicht onderdeel: de rivier over zwemmen. De kou valt wel mee, het is meer het gehannes. Alles in de droogzak proppen, shirt uit, over zwemmen, ontdekken dat de kaart nog aan de andere kant ligt en terug zwemmen, en opnieuw naar de overkant. Een niet al te moeilijke foto-speurtocht brengt ons op het topje van de stad, in een burcht. De weg omlaag naar het volgende CP leert dat de gegeven stadsplattegrond voor auto's bedoeld is en alle voetpaden en trappetjes en steegjes ontbeert zodat we geen idee meer hebben waar we precies zijn.

En dat blijkt een flinke hindernis bij de rest van deze etappe door het stadje Marburg. Want regelmatig lopen we een niet-getekend paadje in dat te vroeg ons pad kruist. Apart is het wel: druipend van de zwem-overtocht, met een fietshelm met hoofdlamp op het hoofd, door een stad rennen die langzaam volloopt met winkelend publiek. Om minder op te vallen bestellen we een broodje en een ijskoude cola bij een bakkertje. Die cola hadden we trouwens nog te goed, na de Harz drie jaar geleden, toen we watertandend en vastbesloten onszelf op een frisje te trakteren naar een etablissement renden dat bij nader inzien al jaren gesloten bleek. Eindelijk…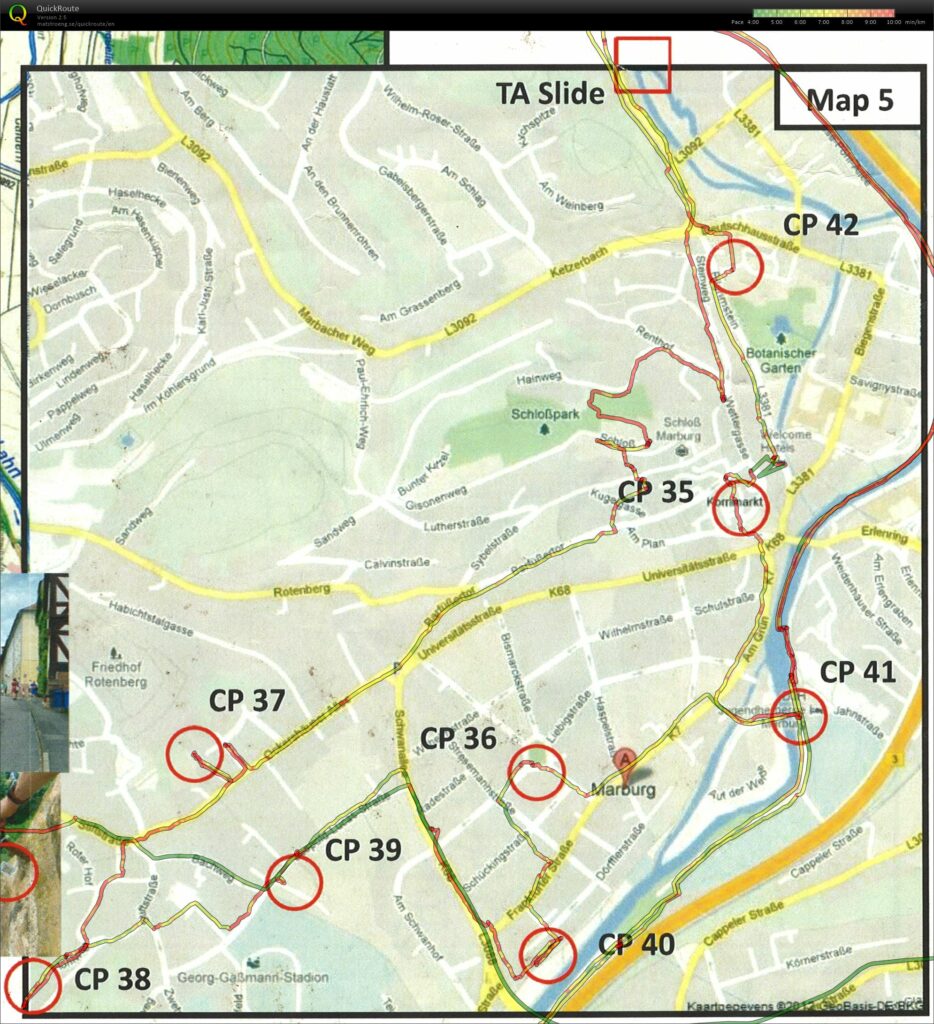 [10:05] Nog één keer overzwemmen, klaarmaken voor de volgende etappe, route bepalen, en op de fiets springen. Het lijkt simpel, en de eerste 500 meter ben ik in juich-stemming want mijn knieën doen het weer. Maar afkloppen moet op ongelakt hout en niet op een aluminium frame, waardoor ik me even later weer loop te verbijten. "Dit gaat echt niet goed", denk ik, zeker niet met 50 km steile hellingen in het vooruitzicht. Dit wordt de zwaarste etappe, en het is niet voor niets dat ze er 4 uur rekenen, vol hellingen waar je omhoog amper sneller fiets dan loopt. De knieschijven willen niet meer. Ik houd het amper een uur vol, en dan, met pijn in het hart, stel ik voor om om te keren. Patrick noemt het een moedig besluit, maar kan de teleurstelling ook niet verkroppen. De handdoek in de ring gooien gaat altijd met een grondig balen gepaard. Hier zijn we niet voor naar het Sauerland afgereisd, hier hebben we geen 145 km door het terrein geploeterd, en 16 uur afgezien.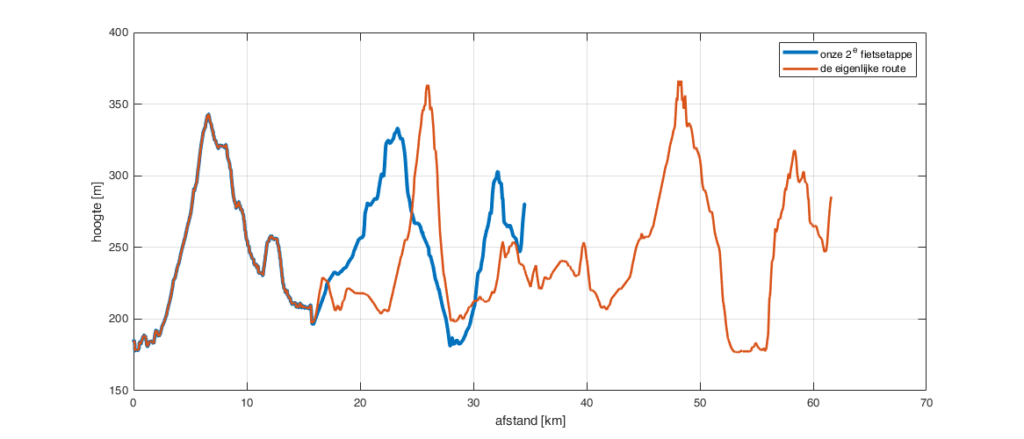 Maar alleen omdat we nog niet klaar zijn, en we de resterende tijd nog zo goed mogelijk kunnen zien te besteden, en het ergens ook wel een heel verstandig besluit lijkt, is het enigszins acceptabel.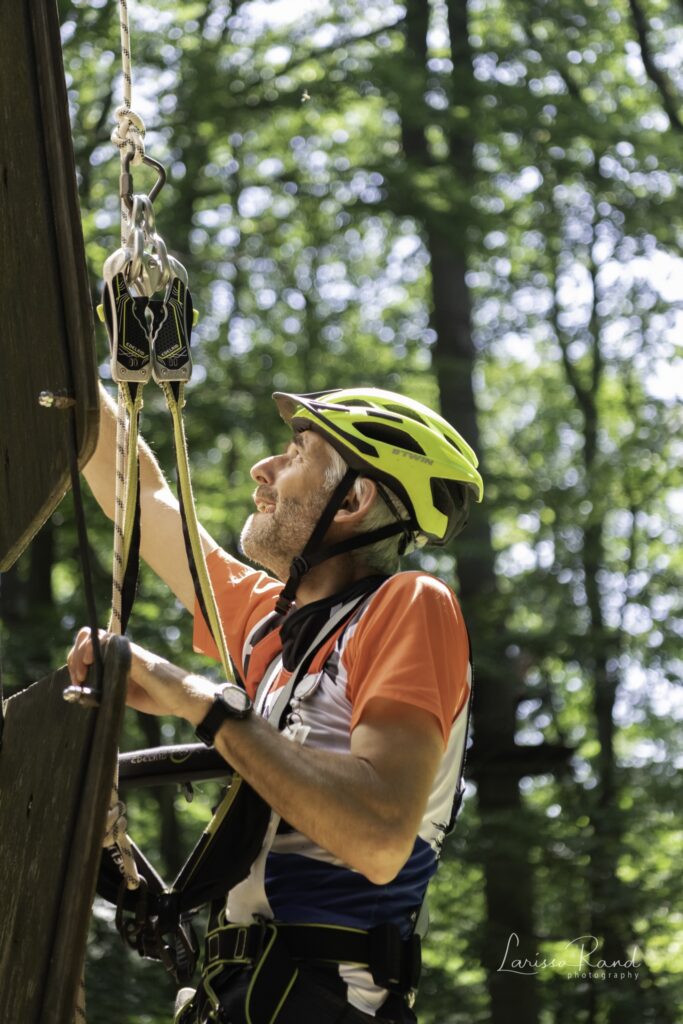 Niet dat het vervolgens gesneden koek is. We zijn twee bergruggen verwijderd van het eindpunt van de ze etappe, en dat betekent dat er nog steeds flink geklommen moet worden. Maar twee keer stijgen met een eindpunt in zicht gaat er wel beter in dan nog negen hellingen.
[12:17] En zo komt het dat we bloedeloos maar met veel zweet en tranen vrijwel tegelijk met de nummers 1 van de race (die 22 km meer gefietst hebben en 385 m extra geklommen hebben dan wij) bij het Kletterwald aankomen.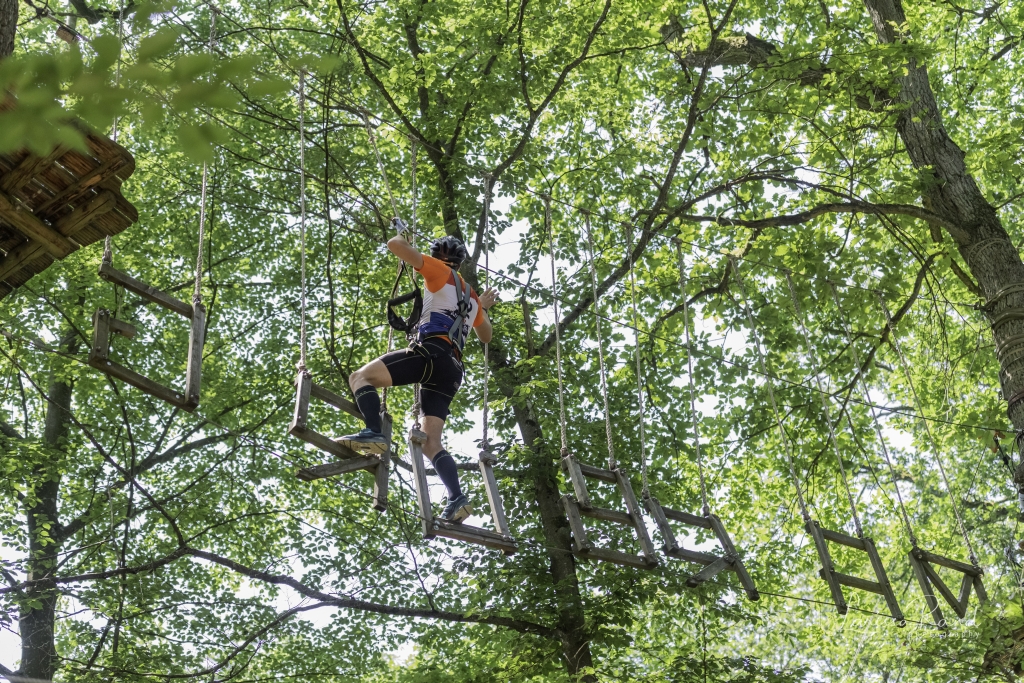 Ze schrikken even ons daar te zien ("zouden zij echt zo slecht oriënteren en wij zo hard fietsen?") maar we menen ze snel uit die boze droom te moeten helpen. Het klimbos is een soort vakantie. Even geen inspanning, maar een beetje spelen tussen de boomtoppen. Er kan niets mis gaan, de tijd tijd doet er ook niet zo veel toe (voor ons), en de voornaamste vertraging komt van gezinnen die vóór ons het zelfde klimparcours volgen maar dan in slow-motion. Dit is trouwens wel het eerste klimbos waar ik tijdens een flying fox de bocht om ben gegaan; bedoeld, maar niet subtiel.
Beest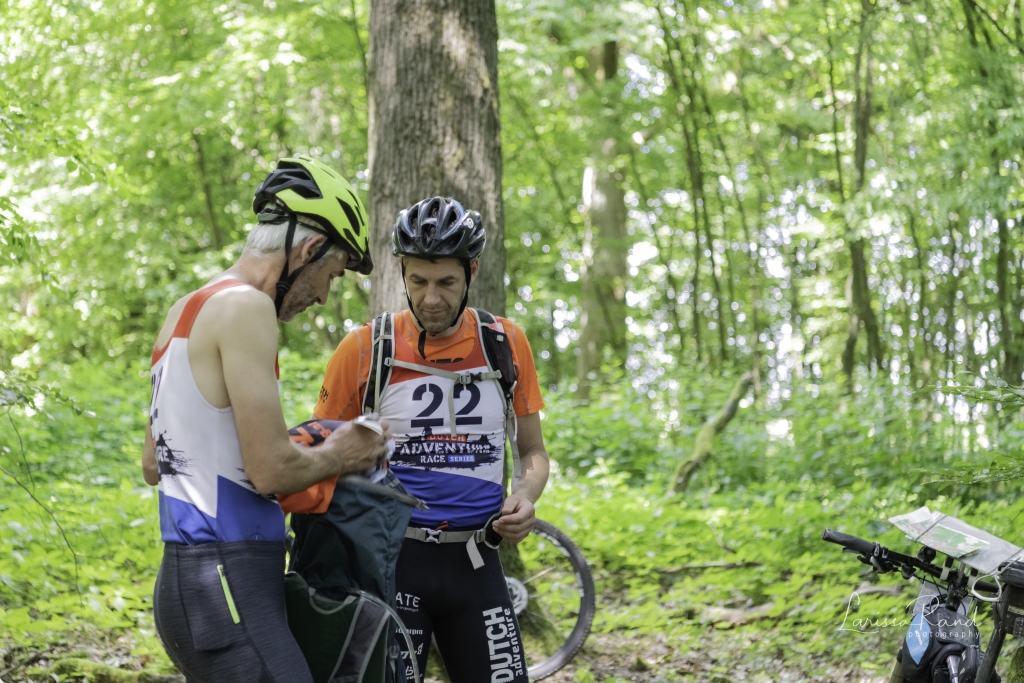 [13:51] Dit stukje buitenspelen is nog niet afgelopen of het volgende begint weer. Andere koek. Ik heb wat goed te maken, voor mijn gejeremieer op de fiets. Dus loop ik de run-bike etappe, en Patrick fietst. Dat mag, dat kan, en dat blijkt helemaal niet zo'n tactloze beslissing. Want al zou je zeggen dat het sneller is om beide een deel te fietsen en een deel te lopen (50/50 meestal, want de fiets moet het hele traject afleggen, en de benenwagen dus ook), blijkt dat tegen te vallen. Op- en afstappen kost best veel tijd, steil klimmen met de fiets is niet sneller dan te voet, en zo komt het dat er nagenoeg even lang over doen als de kopers. Oké, ik loop me ook wel een beetje uit te sloven, maar daar voel ik me alleen maar beter van.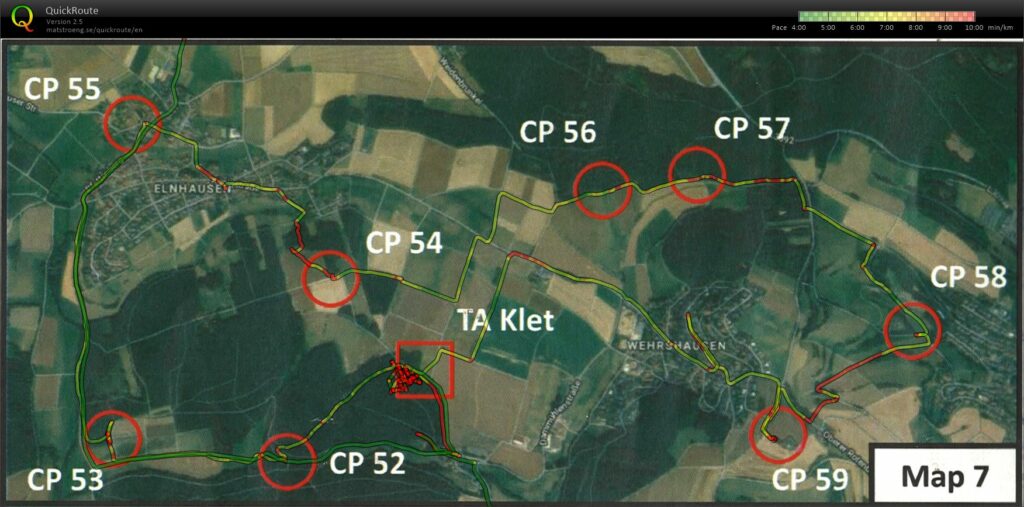 Dit is afzien met een doel, het voelt heerlijk. Her en der een klein oriëntatiefoutje, dat hoort er bij; ook daarin volgt het andere team ons gedwee. Alsof het een doel is de would-be-tegenstander extra af te matten.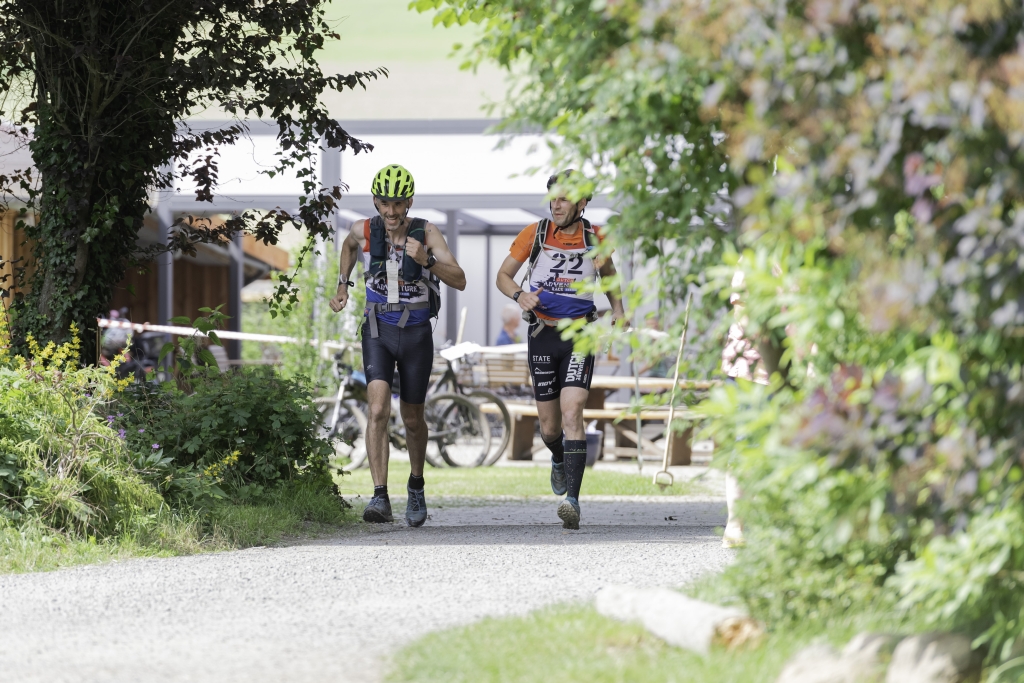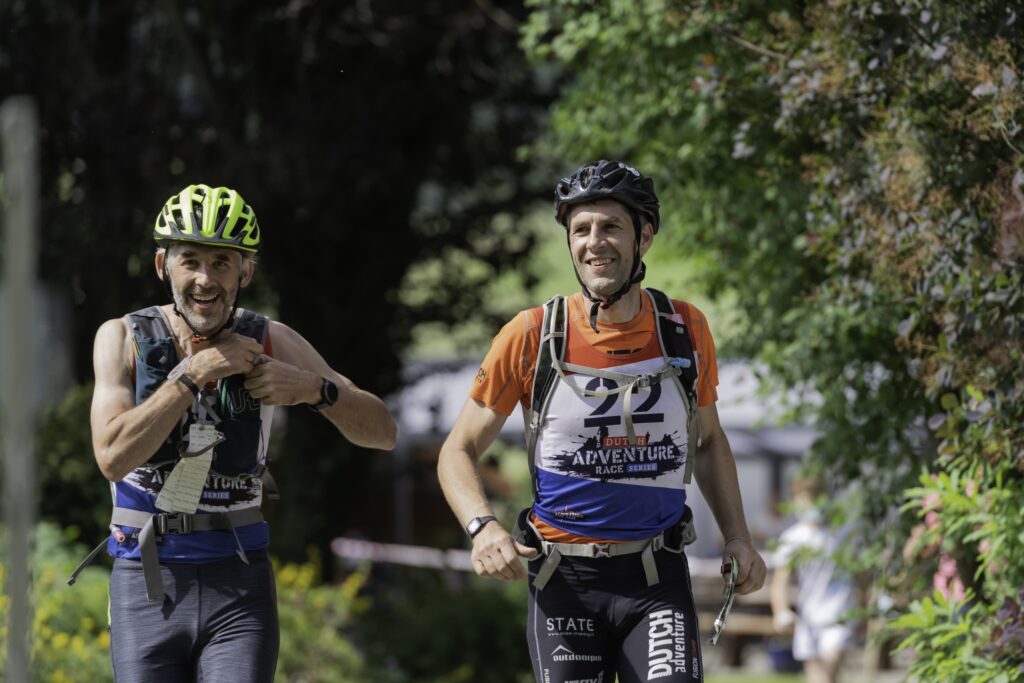 [15:33] Hoe jammer dat hier een eind aan komt. Er moet voor een laatste keer gefietst worden. Gelukkig wel bergaf, aanvankelijk, maar toch ook weer met een flinke klim. Piepend en krakend bereiken we de eindstreep. Een laatste sprint, en het is zo ver. Het zit er op.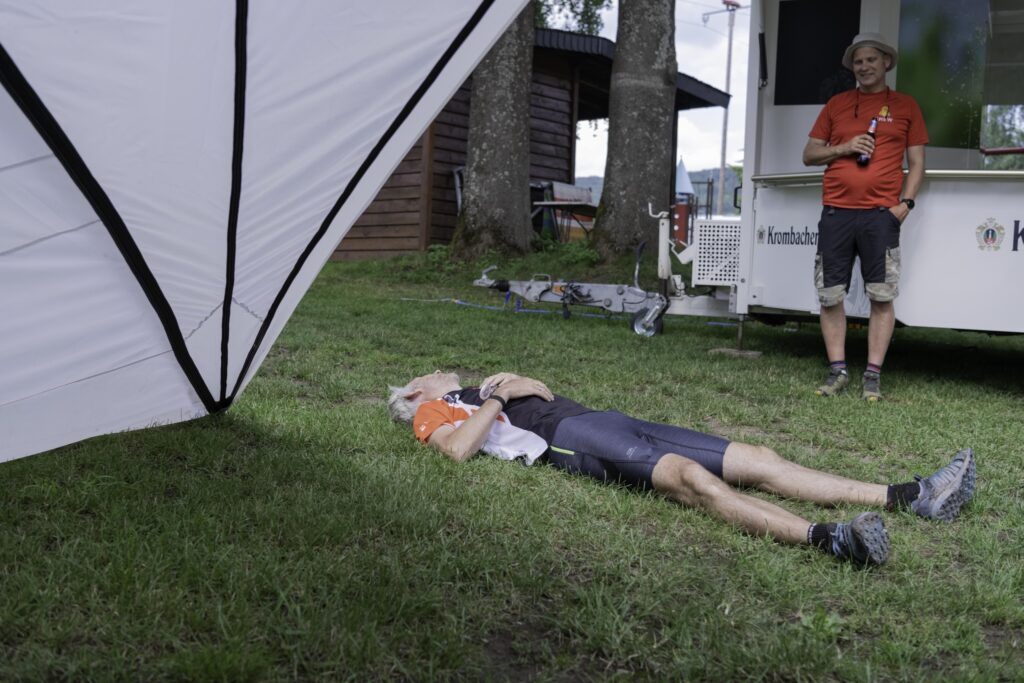 Onwerkelijk, alsof we niet echt hebben meegedaan. Met nog ruim drie uur óver, maar ook 7 overgeslagen punten, is het grote glas Weizenbier op het terras naast de finish wel dorstlessend, maar smaakt het minder verdiend. Had er dan meer in gezeten? Tja, achteraf hadden we natuurlijk een stuk rustiger kunnen fietsen en had ik het misschien langer uitgehouden. Of hadden we bergop kunnen wandelen, en er af rollen, maar dan haal je misschien met moeite een gemiddelde van 10 km/uur, met het risico dat de run-bike etappe een stuk minder soepel was gegaan. Kortom, we zullen het nooit weten, tenzij we het gewoon nog een keer proberen. En zo klinkt het bij de volgende -want er komen er meer- halve liters: "Op de volgende keer!".
Later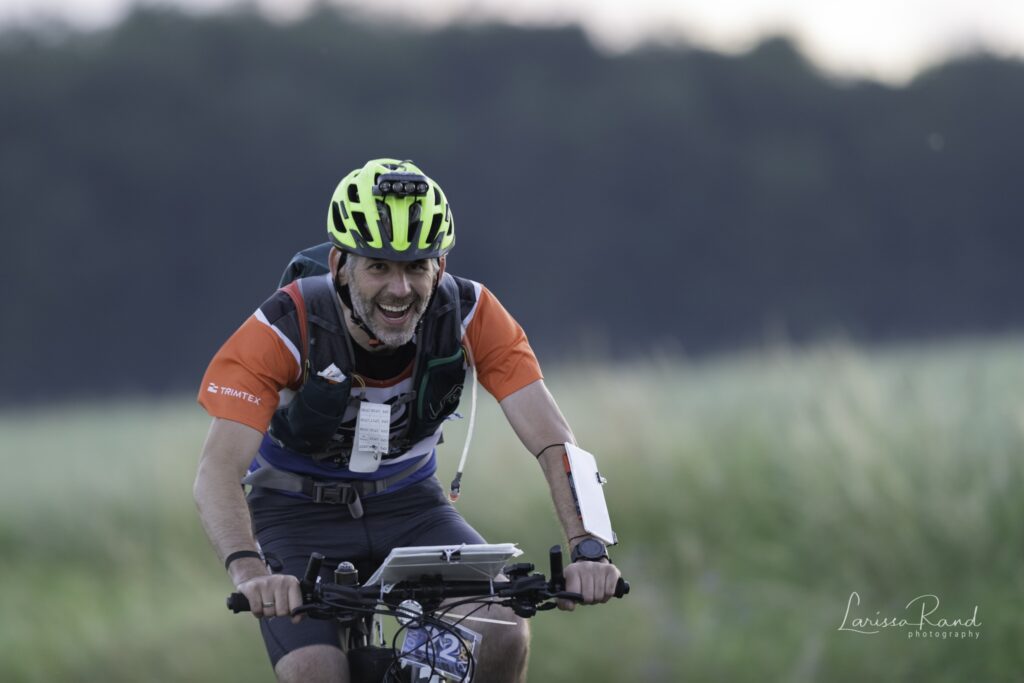 Soms moet je er even afstand van nemen. Om terug te kunnen denken aan een fantastisch mooi event. Prachtige omgeving, weer dat alleszins meeviel, goede sfeer. En een uitdagend parcours, leuk oriënteren, vlekkeloos georganiseerd, verrassende elementen, prima kaarten. De change-of-scene halverwege, met een etappe dwars door het winkelend publiek in de stad, na het overzwemmen van de rivier, maakt dat er op een lange dat als deze alleen maar nog meer gebeurd lijkt. Mooie dingen.