'n Weekje of 2 terug bij de KOVZ training vroeg Gar Oome of ik meedeed aan de All Terrain Challenge. "Nee" was het antwoord, maar toen bleek dat het niet op 15 maar op 22 september zou zijn, zag ik mogelijkheden; alleen geen teammaat. Maar daar had hij wel een oplossing voor, want Geert van den Burg, je weet wel, van HiddenMonsterGames, zocht nog iemand. De volgende avond was de inschrijving rond. Op Het Nippertje, want het was 4 minuten voor de deadline (onthoud dat getal!), en bovendien onze kersverse teamnaam.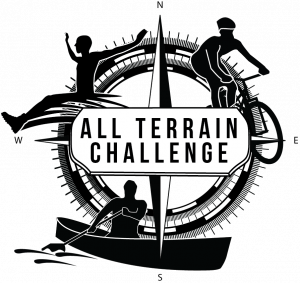 Zaterdag, 08:15: team Op het Nippertje is ruim op tijd compleet bij Op Noord, een sportieve locatie in het noorden van Eindhoven. Fietsen checken, teamfoto maken, inventaris doorlopen: het verloopt allemaal alsof we het al heel vaak hadden gedaan. Dit zou mijn 3e Adventure Race worden. Maar wat betreft deze All Terrain Challenge had ik 0 ervaring.
Geen gekke dingen worden verteld tijdens de briefing. Dat er geSUPt moet worden wisten we al. De afstanden van de onderdelen blijken een beetje aangepast, maar daar kan je toch pas goed mee gaan rekenen in een verder gevorderd stadium van de race.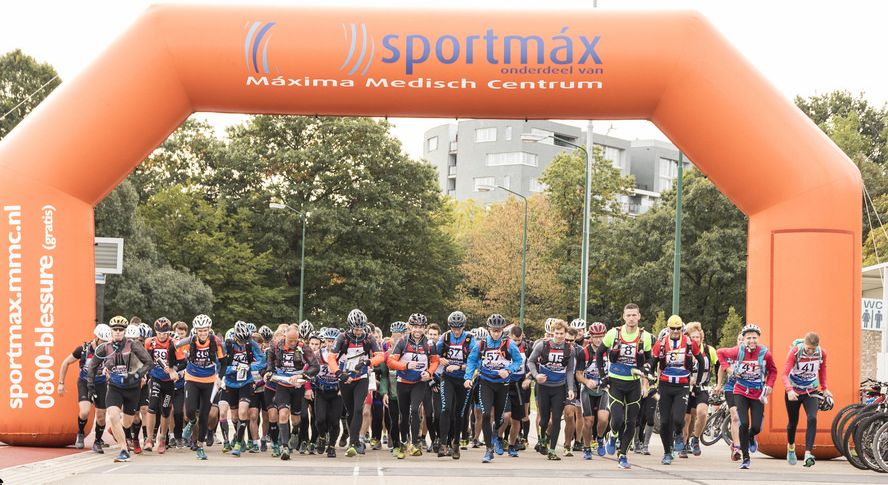 Het starschot laat ons door een heus opblaasbaar finishportaal lopen. Profi! Half rondje atletiekbaan, envelop met kaarten en ons startnummer, 52, pakken, nog een half baantje, en op tijd rond om nog een vrij tafeltje te bemachtigen op het terras van OpNoord om de checkpoints in te tekenen. Dit keer: alle punten, want er staat nog niets op de kaarten, behalve een RD grid. Het hele spectrum heb ik voorbij zien komen inmiddels: kaarten waar alle locaties al ingetekend stonden, zoals bij the hARz, kaarten waar je een deel krijgt en de helft aan de hand van aanwijzingen onderweg zelf moet in uitpeilen, zoals de MWR,  en dit is de andere kant van het spectrum.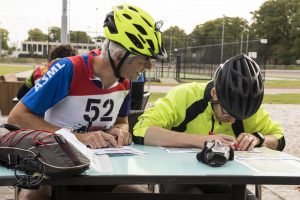 Maar wel met precies 1:25000 kaarten, waar het 1km RD grid duidelijk op stond, zodat onze roemer het prima doet. Ik noem de twee maal twee laatste cijfers van kwadrant op, gevolgd door de twee maal twee eerste cijfers van het decimale deel, en Geert tekent het in, waarna ik vanuit een ooghoek een double-check doe of plek en de omschrijving kloppen. Twintig minuten later zijn alle snelste routes bepaald en de kaarten in plastic ingepakt. En kan het fietsen beginnen.

Aanvankelijk over enigszins bekend terrein. We fietsen een stukje over mijn woon-werk fietspad, bestormen een stormbaan van touw en hout (wat ik overigens niet elke dag doe), en komen bij de kano's aan, op een plek waar ik ooit een geocache vond. Het monteren van de MTB's op de kano lijkt recht-toe-recht-aan, met touw en spanbandjes, maar wordt een fiasco. Het begint er al mee dat ze niet door de openingen tussen de damwanden passen, waardoor de kano direct na tewaterlating er weer uit moet. Maar dan blijkt mijn stuur in het water te steken, wat natuurlijk enorm afremt. Bovendien schept mijn kaarthouder soms een golf, en -bij demontage er van om toch wat weerstand te besparen- valt de span-moer ook nog eens in het water. Fietsen opnieuw in de kano leggen? Kost te veel tijd. Aanmodderen? Kost ook tijd. Maar op het water de zaak verbouwen klinkt als meer risico dus we varen verder met handicap.

De puntjes onderweg zijn niet al te eenvoudig, vooral omdat er soms geen enkel referentiepunt is op de wal waar het CP zich zal bevinden langs de eindeloze bomenrijen. Behalve dan de andere kano's die voor ons zijn afgemeerd, maar die hebben de zelfde oriëntatiebeperking, dus liggen dikwijls net zo verkeerd als wij, waardoor we vaker dan eens veel te vroeg aan wal gaan om de punchen. Tot overmaat van ramp verliezen we ook nog eens een kompas ergens tussen de struiken op een oever. Er volgt een discussie over tactiek.

Het halve team denkt dat het verstandiger is om 2 punten te schrappen, om wille van de tijd. De andere helft wil daar nog niet aan. Maar bindt in. En dat blijkt achteraf verstandig. Ergens midden in het veld van deelnemers bereiken we het volgende wisselpunt: de Step-run etappe kan beginnen.

We zijn dan vlak bij Oirschot. "De route" (althans, die die volgens ons het snelste is met een step) gaat richting de Mortelen en terug, over asfaltwegen, zandpaden, en door weilanden. Steppen door weilanden is niet altijd even handig, blijkt. Maar gelukkig wordt de helft van de route lopend afgelegd. Het lijkt onmogelijk om als er ééntje loopt dit in minder dan de tijd die de hele route lopend zou kosten af te leggen, maar dat is het niet: door steeds te wisselen loopt en stept ieder even ver, maar omdat steppen (3'25″/km ) sneller gaat dan lopen (4'30″/km), wordt er minder lang gestept dan gerend. En worden de 16,6 kilometers in minder dan 1:15 uur afgelegd. Zou de ene de hele weg steppen terwijl de ander rent, dan zou die eerste 18 minuten eerder aankomen. Maar door het afwisselen dus is dat maar de helft van de winst, en de andere helft? Die tijd ligt de step te wachten in de berm tot hij wordt opgepakt door de zojuist gepasseerde loper. Vat je het nog?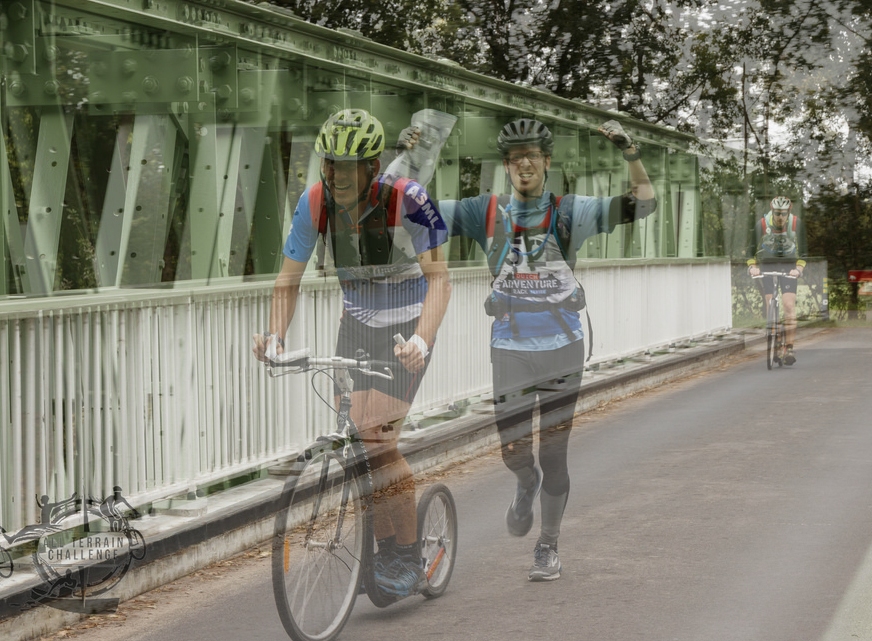 Maar aan al het gereken en geren komt een eind, en, aan het aantal fietsen bij de wisselpost te zien, zijn we wat verder naar voren geschoven in het deelnemersveld. Beetje jammer dat iemand hardhandig de fietsen heeft omgedraaid en de mijne op zijn derailleur heeft neergelegd waardoor de ketting er af ligt en de achteras los zit. We spelen twee minuten voor fietsenmaker, en kunnen dan weer op pad: de tweede MTB etappe.

Die begint soepel, al heeft het steppen en rennen wel energie gekost. Maar na een lange eenzame rit stuiten we op een CP waar het druk is; kennelijk kost dit punt veel tijd. De aanwijzing is "liggende boom" en die zijn er in meervoud daar. Hij moet niet al te ver van de hoek van een kruispunt liggen, en dat blijven er maar een stuk of twee over. Maar bij geen van beide hangt een lintje, en er is ook geen knijptang te vinden. Wel een hoopje zaagsel van een familie boktorren. Of zijn dat de kattenbakkorrels waar in de briefing over gerept is die bij (verdwenen) CP's zouden moeten liggen? We zijn niet zeker, maar na 4 minuten zoeken (wéér die vier), kiezen we eieren voor ons geld, net als de andere teams, en gaan gaan op weg naar het volgende wisselpunt. Dat moet niet moeilijk te vinden zijn, er loopt een weg recht op af.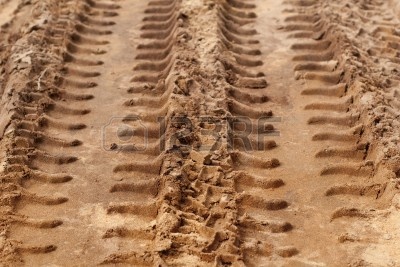 Maar het is geen weg: het is een Zandpad (met een hoofdletter). Van dat mulle droge zand waar niet doorheen te fietsen is. Via de berm, via flanken van akkers, via bospaadjes en via heide ploeteren we voort. 4 kilometer waar we bijna 22 minuten over doen. Een stukbijtertje. Vloekend en tierend bereiken we ons doel: een meertje.
Ik wist niet eens dat daar een meertje lag. Het moet een of andere kunstmatige plas zijn; er lopt een zandstrand als oever rondom. Er liggen sup's klaar in één van de hoeken. Één van ons, Geert, pakt een sup, een dikke lichtgewicht surfplank, en peddelt er op staand naar de volgende hoek. Ik ren daar heen, en los een puzzeltje op, waarna ik het antwoord naar Geert roep die de controlestrook stempelt met de prikker op de drijvende ton die overeenkomt met de kleur die bij het gevonden antwoord hoort. Althans, dat is de bedoeling. De 3e en 4e hoek van het meertje schotelen eenvoudige vragen voor, zoals wat de eerste letters van onze achternamen zijn (handig te weten hoe je team-maat heet), en wat het verschil is tussen twee plaatjes (een roze laars, maar ik kan slechts kiezen uit alleen maar andere multiple-choice kleuren), maar de 2e hoek waar we als eerste arriveren heeft het over '(geboortedatum + leeftijd – 2) / 20 – teamnummer' en nog wat. Lekker vaag. Wat zouden ze als datum in gedachten hebben? De dag? Of het jaar? Of dd-mm-yyy? Of jaar-maan-dag? Ik gok het laatste, want dan komt er voor iedereen het zelfde uit, aangezien hier alleen om het eerste cijfer van het antwoord wordt gevraagd. Blijkt nog te kloppen ook achteraf, of misschien waren alle knijpers op de vier tonnetjes in elke hoek van het water wel dezelfde, en waren het bezigheidstherapeutische strikvragen. Wie weet? Geen tijd nu om het te checken.

Als het sup/run-rondje er op zit moet er nog een pijltje worden geblazen, maar dat gaat eenvoudig; 3 keer missen kost overigens als straf 50 meter rennen in een richting waar we even later toch heen moeten, dus dat hadden we net zo goed meteen kunnen doen en het blazen laten zitten, maar het is toch leuk om dat even gedaan te hebben. Als ontspanning vóór de oriëntatie-etappen. Een kolfje naar mijn hand. Hopelijk goed geplaatste CP's op moeilijke plekken die veel fijn-oriënteren vergen, zodat we met ervaring winst kunnen pakken.

Maar helaas, de eerste post hangt al op de verkeerde plek. Drieëneenhalve minuut gaan verloren terwijl we met nog 3 andere teams op de juiste plek zoeken, wel een knijper van het vaste oriëntatienetwerk van de nabij gelegen Generaal-majoor De Ruyter van Steveninckkazerne vinden, maar niet het 50 meter verderop gelegen punt dat bij deze race hoort. Tot team Dutch Adventure 2 er ineens als een haas vandoor gaat, en daarmee de locatie van het door hen gespotte punt verraadt. Waarvoor dank. Er volgen wat scherpe oriëntatie-acties, via kortste dan wel snelste routes (bos loopt stukken beter dan zand) tot ik ineens door mijn enkel zwik. Au! Is hij kapot, houdt het hier op? Strompelen… Maar na een minuut rennen we weer. Storm in een glas water. Althans, voor dit moment.
De helft van het team die eerder op de dag geen punt wilde laten liggen stelt nu zelf voor om er twee over te slaan. Want we zijn over de helft van het uur dat we voor deze etappe hadden ingecalculeerd, en zijn nog niet op het verste punt. De beslissing is snel genomen. We pakken nog één CP dat toch op de route ligt en gaan terug. We hadden in elk geval de meest tactische volgorde gekozen, blijkt.

Terug bij de fietsen, aan het meertje, blijkt dat we nog iets meer dan 75 minuten hebben voor een fietstocht van wat achteraf 26 km zal blijken. Moet te doen zijn, zou je zo zeggen. De 7 punten liggen niet pal aan de doorgaande weg, en ook niet altijd pal aan een pad. Maar het lijkt allemaal net te halen. Dus we gaan op de pedalen staan en crossen naar het zuidwesten. Kop in de wind. De punten laten zich makkelijk vinden, tot we ineens ergens bij een pas geëgde akker uitkomen waar niets lijkt te zijn. Geen doorkomen aan op de fiets. Te voet dan maar. Maar dat eist zijn tol. Kramp schiet er in. Blijkt dat er toch een paadje was via de andere kant, want een ander team arriveert hier per fiets en is even snel weer weg, terwijl wij terug rennen. De prijs is 6 minuten vertraging. Maar dat stond niet op de kaart.
Inmiddels begint de tijd te dringen. We hebben nog 25 minuten tot de deadline. Het volgende CP vinden we direct, en daarna is het alleen nog maar asfalt tot de finish. Niet in de laatste plaats omdat we besloten hebben nóg een punt over te slaan, namelijk dezelfde locatie als het eerste punt van de kano-etappe waar we toen best wat tijd kwijt waren, en dat per fiets helemaal niet handig te bereiken is.  Het zou net moeten lukken – als we tenminste op volle snelheid doorfietsen. Maar ja, 8 uur trappen, peddelen, steppen, rennen, zweten, vallen, opstaan en weer doorgaan, vergen hun tol, en de benen zijn zuur. Kramp schiet er telkens bijna in, en de scherpte is toch echt verdwenen. Een allerlaatste punt op weg naar het eind lijkt nog de moeite waard: het lintje zien we al van verre, maar het kost toch nog 30 seconden, omdat de knijper verstopt onder een bruggetje hangt.
De laatste bocht, en we zijn er, net op tijd. Of toch niet? Het blijkt exact 18:00:00 te zijn als we nog een rondje over een opblaasbare stormbaan moeten. Had ik niet op gerekend. Schijn je te weten als je hier eerder aan hebt meegedaan. Het onding is spekglad geworden (had ik al verteld dat het als prachtige dag begon maar de laatste 2 uur heeft geregend?), en ik kom de helling zelf niet op nadat ik Geert er overheen heb geduwd. Maar ik wordt geholpen door de volgende deelneemster die er aan komt, en ik trek haar dan weer naar boven als dank. Zo komen we er wel.
Maar helaas wel 4 minuten te laat. En dat blijken dure minuten. Want elke minuut is een minpunt, net als elk CP een pluspunt was. Met 34 punten in 8 uur is dat bijna een uur verloren in 4 minuten. Beetje jammer. Op zo'n moment ga je zitten denken waar we 4 minuten hadden kunnen besparen. Bij bij het zoeken naar dat CP dat er niet meer bleek te zijn? Bij dat punt dat op de verkeerde plek hing? Bij het akkertje waar geen pad leek te zijn? Als mijn ketting er niet af was geraakt? Als ik niet door mijn enkel was gegaan? Als het stoplicht niet op rood had gestaan, als…? Maar daar is nu niets aan te doen. Op punten blijken we 4e te zijn, de straftijd niet meegerekend. Dus het was best een succesvolle race, en de volgende keer, met een tikkeltje meer ervaring, worden én de fietsen wat handiger op de kano geladen, én houden we iets meer marge op het eind over. Op de toekomst!
Kortom: het was weer een mooi dagje buitenspelen!
| | | | |
| --- | --- | --- | --- |
| Activiteit | Tijd | Afstand | Snelheid |
| Fietsen | 2:28:24 | 48,752 | 19.7 km/h |
| Kano etappe | 1:41:10 | 9,353 | 5.5 km/h |
| Step-Run | 1:14:34 | 16,638 |  4'28″/km |
| Oriëntatie etappe | 1:02:12 | 9,613 |  6'29″/km |
| Suppen | 0:19:09 | | |
| Special tasks | 0:09:37 | | |
| Kaart intekenen en route plannen | 0:25:35 | | |
| Wissels | 0:28:57 | | |
| Zoeken | 0:13:56 | | |
| Totaal | | 86,815 | |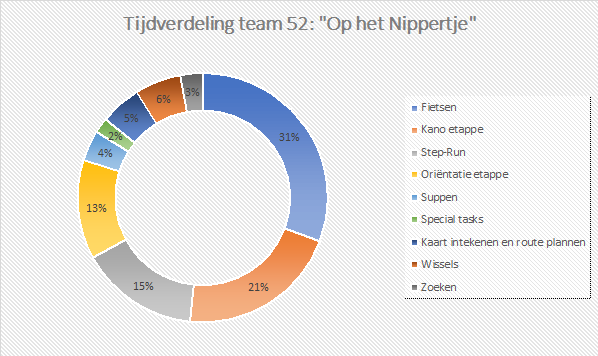 Het is wel grappig om naar de statistieken te kijken. Ik heb hier onder het aantal lopers dat een wisselpunt bereikte uitgezet tegen de tijd. Het laatste wisselpunt overigens komt er niet zo overzichtelijk uit naar voren omdat daar veel tijden ontbreken; dat zijn de turquoise lijntjes rechts. Wat opvalt is natuurlijk dat de finish zich rond 18:00 concentreert, en dat de meeste lopers dan wel binnen zijn (of nog net niet). En ook dat er bijna precies halverwege de race, om 14:00, een groot aantal deelnemers bij het step/run→MTB wisselpunt aankomt, dat ook in het roadbook zo'n beetje halverwege stond aangegeven. Kennelijk ook een ijkpunt. Maar vervolgens loopt het veld enorm uit elkaar in de daaropvolgende etappe, en komt men tussen 15:00 en 16:30 aan bij het sup-meertje. De laatsten zijn daar rond de tijd dat de eerste fietsers er alweer vertrekken. Maar toch wordt de spreiding bij dat wisselpunt alweer compacter. Logisch, eigenlijk, want de deadline van 18:00 is -en daar zijn wij op nogal confronterende wijze achter gekomen- nogal hard.

Je kan ook nog wat leuke dingen aan de scoretabel hier onder zien (als je die even uitvergroot).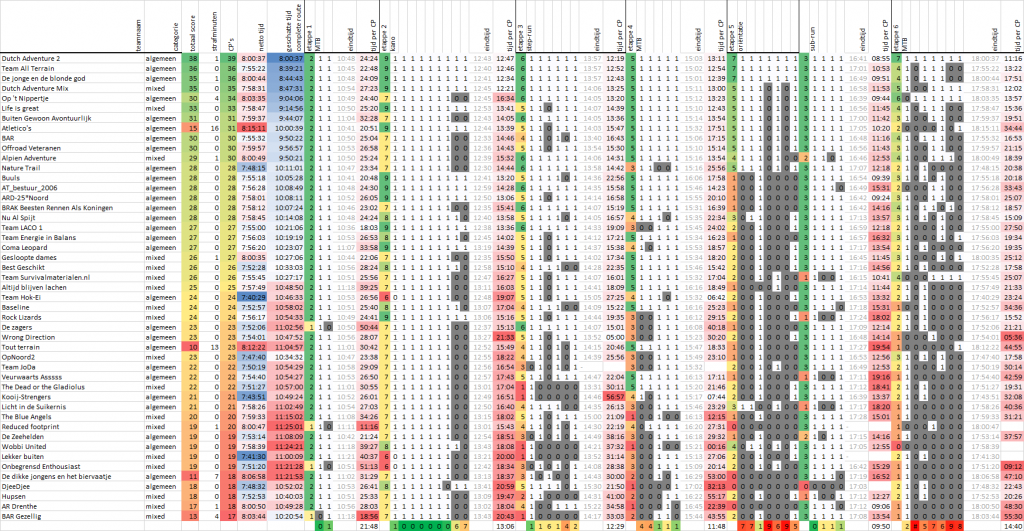 Een ding dat opvalt is dat vooral in de laatste MTB-etappe en de oriëntatie-etappe veel punten worden overgeslagen. Een inschatting van wat haalbaar is wordt kennelijk nog niet veel eerder gemaakt. Alhoewel, als je naar de kano-etappe kijkt worden al vanaf 1/4 van het deelnemersveld de twee punten die niet echt op de route lagen overgeslagen, door meer dan 60% resp. 70% van de teams. En ook het derde step-run punt laat 60% liggen. De tweede MTB etappe wordt een stuk vollediger bezocht. Maar 3/4 van de teams pakt maar 1 of 2 puntjes van de oriëntatieetappe -het leukste onderdeel- mee. Suppen doet bijna iedereen. En wij zijn dan weer de enigen die het punt in de laatste MTB etappe waar we ook al geweest waren bij de kano etappe overslaan, omdat het net te ver van de route lag, gezien de tijd die we hadden (of dachten te hebben).
Ik heb een schatting gemaakt van hoe lang ieder team er over gedaan zou hebben als ze alle punten zouden hebben bezocht. Door de tijd per CP van de beste 10 teams te berekenen uit de tijd per etappe gedeeld door het aantal CP's, en dat te vermenigvuldigen met het aantal gemiste CP's per team, en dat dan weer bij hun etappe-tijd te tellen.  Het resultaat staat in de 7e kolom hier boven. Behalve voor de eerste etappe lijkt dat best een aardige schatting op te leveren: de eerste etappe bestond voor ongeveer de helft uit punten intekenen, en dat deed iedereen. Over de hele wedstrijd kost elk CP ongeveer 13 tot 16 minuten (voor de teams die minstens ¾ van alle CP's vonden).
Wat je dan ziet is dat juist in de etappes waar de tijd per punt relatief lang is, de kano en de step-run etappe, weinig punten worden overgeslagen, terwijl men bij het oriënteren, met weinig tijd per punt, er veel links laat liggen. Maar tegelijkertijd moet je bedenken dat er bij de kano-route niet echt veel te besparen was, want op 2 punten na was het een rechte lijn over het Beatrixkanaal en Wilhelminakanaal.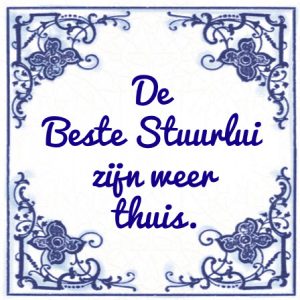 Maar dat neemt niet weg dat wij beter twee punten in de laatste MTB etappe hadden kunnen laten liggen, en twee punten meer in de oriëntatie etappe hadden kunnen pakken, wat ons 19'30" had gekost, maar 27'50″had opgeleverd, waardoor we 4 minuten vóór de deadline waren binnengekomen in plaats van er na, en dan hadden we misschien ook nog CP1 van etappe 6 kunnen doen. Wat ons op een overtuigende vierde plek had gebracht, met dezelfde inspanning. Tja, zo zie je maar weer dat je je alles achteraf altijd beter weet: De Beste Stuurlui Zijn Weer Thuis.
En anders hebben we de foto's nog…